It's always such a mad rush after a long day of teaching to get a decent dinner on the table - a dinner that everyone loves, is fast and easy to prepare, tastes great, and is moderately healthy. Kathleen over at Growing Kinders is hosting a linky party where we can share our favorite weeknight recipes. What a great idea!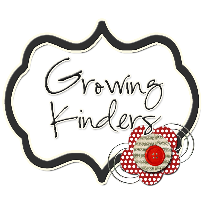 Our favorite weeknight recipe (or one of them anyway) is Creamy Vegetable Soup.
This quick fix hearty soup makes an appearance on our dinner table at least every other week, even during the summer!
Give it a try, I think you'll really like it! The image is linked to a pdf download.
Then hop over to Growing Kinders and check out all of the other links! I know I can certainly use some help with dinner ideas! Thanks, Kathleen!