Last night the sweetest little note showed up in my e-mail!
A big HUGE thanks to Sheree!!
She awarded me with the Favorite Follower Award.
It really made my night!
(And if I could give the award back to her, I would in a heartbeat! She always leaves the best comments!)
If you've never been to visit Sheree, hop on over there and say HI!
She has an awesome blog full of incredible ideas!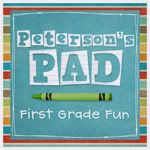 Rules of the award are to pass it on to TWO of my favorite followers.
Looking back over the comments I've received,
I'm going to pass this award to. . .
Amanda at Learn, Laugh, Grow
and Heidi at Swamp Frog First Graders.

They both have oodles of great ideas and are super busy, but always leave the kindest comments and words of thanks or encouragement!
Of course, my own colleagues are great followers too (although their comments are few and far between). They are my quality control team. ;)
And. . .just because, here's a super easy (TASTY!) crock pot recipe for those really long days.
In a crock pot put about 1 pound of chicken breasts or tenders (boneless/skinless - and I always put them in frozen). Pour 1 pint of your favorite salsa over the top of the chicken. Crumble 1/2-1 cup of packed brown sugar over the top of the salsa (depending on your sweet tooth, lol).
Cook on low all day. Serve over rice or shred into the sauce and use for taco or quesadilla filling. So easy. So cheap. So yummy!